Transform your locks, and leave the Hut feeling like the next Instagram sensation - Sleek & Smooth or Curl & Volume. Whether you're looking for Glam, Sleek or Chic, the salon will ensure your hair is fabulous all day long.
Sleek & Smooth - £12
Curl & Volume - £12
Plaiting - from £15 (Coming Soon)
Up-do - £40 (Coming Soon)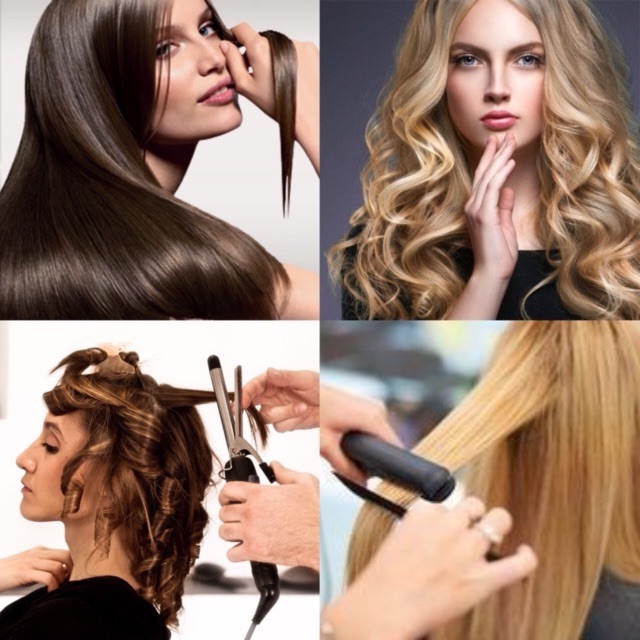 CocoChoco Keratin Hair Smoothing Treatment
Brazilian keratin is an innovative process of hair treatment which is purely natural and without the content of formaldehydes, sulphates and parabens. It regenerates hair in depth and straightens it without changing its structure.
The application results in healthy, straight, soft and shiny hair for a period of 3-4 months. Treatment with Brazilian keratin is suitable for all types and kind of hair.
Benefits of Brazilian Keratin COCOCHOCO:
Rectifying dry and damaged hair
Bringing amazing gloss
Removing frizzy hair
Providing thermal protection
Protecting colour-treated hair
Preventing split ends
Better combing and styling
Saving time when straightening hair
Straightening without changing hair structure
Velvet and smooth hair to the touch
Hair becomes stronger, its surface closes and at the same time, it is protected from UV radiation, wind, frost, sea water and chlorinated water. Brazilian keratin is suitable for soft, damaged, curly, prolonged, hard, unruly and coarse hair. Due to its properties it is also suitable for chemically treated or colour-treated hair.
The results are visible immediately straight after application.
Partial (Fringe) - £40
Short (Down to chin) - £70
Med (Top of shoulders) - £80
Long (To Bra Strap) - £90
Very Long (Past bra strap) - £100
CocoChoco Botox Hair Smoothing Treatment
COCOCHOCO HairBotox is an innovative process that effectively penetrates the disturbed areas of the hair and fills it with regenerative substances.
The ultimate way to revive your hair. Using all natural ingredients it helps you restores and rebuilds the treated hair leaving the hair soft, smooth and silky to touch.
The action of BOTOX lasts from 3-4 months, depending on the after care and structure of the hair, porosity and other features of individual hair. The procedure is based on the principle that the structure of damaged porous, chemically damaged or otherwise damaged hair is restored in a unique complex formula of beneficial restorative materials. This is a professional procedure for deeply nourishing/ rebuilding and restoring hair in the salon.
The more damaged the hair, the more visible the effect. Hair becomes resistant to moisture and rain, does not swell, reduce the static, reduce curl, combs easily, is flexible, , much easier to maintain, protected against UV rays (sun, sunbathing, etc.).
All in one treatment;
Restores dry damaged hair
Improves hair texture and shine
Hydrates and deeply conditions
Treats split ends and tames frizz
UV protection
Sulfate Free Phthalate Free
Paraben Free Color Safe
100% Vegan Gluten Free
Cruelty-Free
The results are visible immediately straight after application.
Partial (Fringe) - £40
Short (Down to chin) - £70
Med (Top of shoulders) - £80
Long (To Bra Strap) - £90
Very Long (Past bra strap) - £100
Hair Botox vs Keratin Treatment - What's the Difference?
Hair Botox treatment is designed to help eliminate frizz, as it smooths and make hair healthier and younger looking. A great option to avoid using too many harsh chemicals in the hair, it's a deep conditioning treatment that helps to restore and reconstruct your hair, using key ingredients such as proteins, amino acids, vitamins, and lipids. The anti-ageing hair treatment acts like a filler, by filling in any gaps in the hair fibres, leaving it silky, shiny, and more youthful-looking. Please note this is not a straightening treatment and it's not as strong as Keratin Treatment.
Keratin Treatment is an advanced process that provides your hair with a healthy, shiny and silky look. The application is based on Keratin which is the primary protein of skin, hair and nails. Keratin is a natural substance that gives your hair the ability to improve the texture, condition, and elasticity of your hair. Hair will stay straight and frizz free up to 4 months depending on original hair condition.
Summary: The main difference between these two treatments is that Keratin Treatment is for smoothing and fully eliminating frizz, designed for people who like straighter hair with a significant reduction of volume. Hair Botox is for restoring, nourishing and taming frizz, for anyone who's hair is very damaged, over-processed, thin in structure and in need of deep restoration.