FAQ's
Working with me is Alice, Zoe & Dorina. We are passionate Nail Technicians & Beauty Therapists bringing you many Treatments.
The Salon is very spacious and has 2 separate treatments rooms, one of which has a shower cubicle used for Spray Tanning.
There is a disabled toilet and all doorways are easily accessed.
The Salon environment is both comfortable, welcoming and modern, that you'll want to tell all your friends about.
A range of Complimentary refreshments and Free Wi-fi will be available.
The address is The Glamour Hut, 64 Botley Road, Park Gate, Southampton, SO31 1BB.
Feel free to call 01489 885792 or 07464 469608 to book or make enquiries. Or Book HERE
Gift Vouchers & Retail available.

PayPal, Card or Cash are accepted.

Online Booking for your convenience
Opening hours:
Monday - CLOSED

Tuesday - 9am - 7pm

Wednesday - 9am - 5pm

Thursday - 9am - 8pm

Friday - 10am - 7pm

Saturday - 9am - 4pm

Sunday - CLOSED
Free Parking is available across the road, for up to 2 hours.
LASH EXTENSIONS
What Are Eyelash Extensions?
Eyelash extension is an advanced technique that lengthens and thickens eyelashes. They are single strands of lashes that are curved to replicate a natural eyelash. We use only quality extensions in faux mink and silk. Your Lash Technician will use the best suited for your Natural Lashes.
How will they look and feel?
When applied by a Skilled Lash Technicians they will look completely natural, only much longer and fuller. They will feel like your own eyelashes. We do not count lashes, we will add as many or as few as is needed to create the right look for you in the appointment time booked.
How long will my initial appointment take?
We take an individual approach with our customers and will not rush your appointment. You can expect your first appointment to take approximately 75-120 minutes. Unlike some salons we do not count eyelashes, a full set is a full set. We will use as many as are needed to create the right look for you. If you are happy, then we are happy.
How long will my Eyelash Extensions Last?
When properly applied and cared for, your eyelash extensions will last for four to six weeks. Please see the aftercare section on how to properly care for your eyelash extensions to maximise longevity.
What is an Infill and how often should I get one?
After your initial set of eyelash extensions you will receive instructions on how to care for them. Infills are done every two, three to four weeks depending on care and how quickly your eyelashes grow. An Eyelash Extension Infill will take a shorter time to do and the prices reflect that.
2 Week Infills (60 mins) - Must have at least 50% of lashes left
3 Week Infills (90 mins) - Must have at least 30-40% of lashes left
Why do I lose some of my eyelashes?
Due to the natural growth cycle of your lashes you will find your natural eyelashes shed every 60-90 days as new ones grows in. We recommend getting a fill every three to four weeks to fill in lashes on the new growth. SPRING SHED IF VERY COMMON
Will extensions damage my eyelashes?
Yes and no. Yes, your lashes can be damaged if you go to someone who was not properly trained and uses cheap products not intended for long wear. No, extensions properly applied by a trained technician who uses quality products should not. Our Eyelash Extension application techniques and innovative aftercare ensures your lash health.
A friend of mine is allergic to the products, is this common?
True allergic reactions do happen, but are rare. If you have developed an allergic reaction you may still wear extensions with some changes made to the aftercare process. What is more common is eye infection due to improperly washing and caring for your lashes. Waiting 24 hours to wash lashes and not washing your eyelashes the entire time you wear them are the most common causes of infections. Imagine not washing the head on your hair for weeks or months. This is the most common reason wearers lose their lashes prematurely.
Can I use eyelash growth products with my extensions?
Lash growth products that contain steroids change the composition of your lashes and accelerate your eyelash shedding cycle, therefore we cannot guarantee the outcome. Natural lash growth products containing peptides are wonderful and will have no adverse effect on the longevity of your extensions.
Will I still need to use mascara?
No, you will not need to use mascara with your lash extensions, but for nights that you want extra drama you can use a water-based mascara. See the aftercare section below for tips on using mascara.
Lash Extension Pre Care
Please arrive five minutes before scheduled appointment.

Please arrive mascara-free.

Please remove Contact Lenses.

We have a 48 hour cancellation policy. New Sets will require a 50% Deposit to secure your booking.

Skin sensitivities and allergies are extremely rare and your safety and care are of my utmost concern. We use the highest quality products and the most up-to-date techniques and sanitation protocols in the industry. However The Glamour Hut is not liable for reaction due to our products. We require a patch test 48 hours before your appointment. Please call to schedule. We WILL NOT carry out the treatment without a patch test.
Lash Extensions After Care
Now that you have yourself a set of gorgeous lashes take note of these tips to maintain them. With proper care and Infills your Eyelashes can last indefinitely.
Do not get your Eyelashes wet for the first 2 hours.

Do not use a spa, sauna or pool for the first 24 hrs. The extensions need that amount of time to properly bond.

Avoid pulling or rubbing your eyes. Blot dry only.

Do not use eyelash curlers with your extensions. With proper application you will not need them.

ONLY use oil-free makeup remover. If your eyelashes are tangled or crossed over, use the Mascara brush given to you during your appointment to gently brush them straight and put them in place.

Proper hygiene is very important. Please keep lashes clean with regular washing. We advise you use a mix of 1 part baby shampoo to 3 parts water in a pump bottle (available to purchase) at least once a day.

Use only mascaras that are safe for eyelash extensions, no oil-based or waterproof mascaras. Only apply the mascara to the tips of your lashes.

You can also dry the lashes by using a hair dryer on the cool setting and blowing them dry from the bottom up. It makes them curlier and fluffy.

Use care when applying facial and eye creams to avoid the lash line. Too many oil-based products can break down the adhesive.

We recommend Infill appointments every two to four weeks to maintain your new eyelash extensions.
SPRAY TANNING
Pre Tan Advice
Exfoliate day before your tan.

Hair Removal (Wax, Shave or Epilation) 48hrs before.

(You can shave the day after tan).

Remove jewellery before tan.

No Make-up, deodorant, moisturisers or perfume before.
Post Tan Advice
Wear loose dark clothing for straight after tan.

Moisturise daily after tan.

Exfoliate every 3rd day after tan.
NAILS
Pre Nail Advice
Please ensure any regular nail polish has been removed from finger or toe nails before your treatment.

If you need help deciding what Nail Shape or length to have, we can help.

Maybe you are concerned about a Nail Condition you have, again, we can help.
Post Nail Advice
Gel Polish or Acrylic or Polygel is suggested to last up to 2 weeks or 3 weeks depending on brand and clients lifestyle and health. Some people have the good fortune of getting 3-5+ weeks! This is not encouraged and is not the case for everyone and is actually rare. Weaker nails can get a good 7-9 days, still better than traditional polish. Peeling the product off lessens the wear time. Peeling takes off layers of your own nail, thus thinning the nail and making it weak. (We know when it's been peeled or forcibly removed).

While wearing polish (regular or gel) your nail plate is not getting any oil naturally, and the more brittle the nail the quicker the polish breaks down. Just like dry hair, it needs conditioning.

Therefore it is very important to apply a good quality Cuticle & Nail oil that contains Jojoba so that your natural nails are conditioned whilst wearing Gel Polish. We recommend using at least twice a day, the more the better. Especially if your hands are in water a lot. We will know if your not using it enough.

Also if you're in water a lot the breakdown is much quicker. The nail plate is porous and it expands and contracts with water, this compromises the product and it will lift with moisture. Constant expanding and contracting will cause the polish to separate from the plate and water will get trapped, thus the entire application will lift off.

We're writing this to remind everyone that no product is Bullet Proof, it's only as strong as your nails are healthy. We expect some chips after 2 weeks, that means you work, live life and use your hands, that's normal. Don't be hard on yourself either, it's just not built to last forever.

Breaks are common when stress or trauma happens to the nail. Nobody is sitting still and a nail will not just break or pop off, something caused the trauma. Please ponder all these things and keep in mind that this is "strong nail polish"

If you find that you need something stronger than Gel Polish, you're welcome to get an overlay of Acrylic or Soft/Hard Gel in addition to you Gel Polish. This option will require Infills with your Gel Polish.

Also for our clients who have 'weak, peeling or damaged nails', We offer IBX Nail Strengthener & Repair or IBX Boost System as an Add-On service to your Gel Polish created by Famous Names.

We also offer another Add-On product called Structure Gel or Rubber Base that adds strength and is soaked off with your Gel Polish.

If your nails are thin, damaged or peeling, the extended wear polish does not change that. It's simply polish laying on top of the nail plate. It does NOT penetrate the nail. Therefore the longevity of the Gel Polish will depend on the condition of the Natural Nail.

IBX does penetrate the nail plate and makes the nail stronger over time and causing the product to last longer.

We have always offered the option of a nail repair. We don't offer any guarantee on gel polish and never have. We will repair a nail up to 48 hours after application as a courtesy, after that there is a charge for the repair.
NOV'MAX KERATIN HAIR SMOOTHING TREATMENT
Pre Advice
Please wash your hair with the Pre Shampoo provided just before your Treatment. (Please return bottle)

DO NOT use conditioner.

DO NOT use serum or other styling products.

Hair can be dry or wet when you arrive for your Treatment.
Post Advice
You can wash your hair straight after the Treatment.

You can use your normal shampoo & conditioner.

DO NOT kink or bend your hair immediately after your Treatment and prior to washing

Styling products can be used as required
WAXING
Pre Advice
DO NOT use a Sunbed/or Sun bathe at least 48 hours before your appointment.

DO NOT have a Chemical Peel/Microdermabrasion/Derma-planning at least 48 hours before Treatment.

Please remove Make Up.

Post Advice

least 48 hours after your appointment.

DO NOT have a Chemical Peel/Microdermabrasion/Derma-planning at least 48 hours after Treatment.

Avoid Make Up for 24 hours after your Treatment.

Avoid Hot Baths or Showers/Saunas/Hot Tubs or Swimming for at least 48 hours after.

Avoid Massage/Heat Friction and Tight Clothing.

DO NOT use Deodorant or Perfume on the treated area for at least 24 hours.
REACTIONS ARE NORMAL AND SHOULD SUBSIDE WITH 24 HOURS, IF THEY PERSIST UP TO ONE WEEK LATER, CONTACT YOUR GP.
LASH & BROW TINTING
Pre Advice
PATCH TEST IS REQUIRED AT LEAST 48 HOURS BEFORE TREATMENT

If you are a Contact Lens wearer, please remove before your treatment.

Please DO NO arrive for your Lash Tint with Mascara on.
TANNING TUBE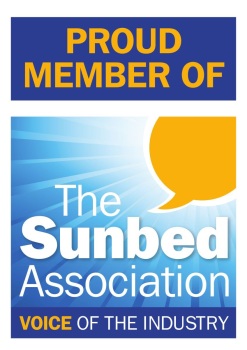 TERMS AND CONDITIONS - PLEASE READ THE FOLLOWING CAREFULLY
DO NOT USE UV TANNING TUBE IF YOU…

Are Under 18
Suffer from: ill effects from normal sunbathing, epilepsy, giddiness or fainting, headaches or migraine, heart condition, blood pressure, hypertension, prickly heat, cold sores, allergies, skin ulcers or raised/ multiple moles?
Are: under medical supervision, prescribed or taking any form of drug, ointment/lotion, antibiotic or tranquilliser, diabetic, pregnant or hypersensitive to light?
Have had: Hot Waxing, Sunburn, Tattooing, Skin Bleaching, Laser Hair Removal or Electrolysis in the past 24 hours?
Have had Chemical Peel, Microdermabrasion, SPMU/Microblading, Adapalene Hydroxyl Acid, Retin-A, Retinol/Vitamin A, Renova, Plasma or Fibroblast in the last 6 weeks.
Also, if you are on any medication or drugs, please check with your GP or pharmacist before using a Tanning Tube as certain drugs make the skin more sensitive to UV light. If you are pregnant, consult your GP before use.
So you've completed the above checklist and answered NO to all the questions and want to use a Tanning Tube because looking good and feeling great is what having a tan is all about and why 70% of us in the UK and Ireland want one!
Whether it's an all-year-tan, a pre-holiday boost, Vitamin D boost or you simply want to look good for that special occasion, a tan has never been more accessible.
Here is some useful information on Tanning Tubes:
UV Light
The four main elements we rely on for our lives and wellbeing are air, water, earth and sunlight. If we take any of these forces away, then quite simply, we would not exist! There would be no life without the sun – but life with too much sun may not be good either.
Ultraviolet rays – UVC, UVB and UVA – are emitted by the sun. UVC rays, the most dangerous to the human system, are filtered out by the upper atmosphere but some UVB (which can cause sunburn and eye damage) and UVA, reach the earth's surface. The intensity depends on the angle of the sun – ie the geographical position, season and time of day. UV levels can increase by up to 50% between 11am and 1pm!
UV is invisible. People outdoors are exposed to varying levels of UV and they are often unaware of the UV intensity. Unfortunately, warnings of sunburn often come too late. A survey in Denmark revealed that beach sunbathers exposed themselves for an average of three-and-a-half hours a day.
Tanning Tube lamps simulate the sun and emit UVA and UVB but they go a stage further and control the output with a balance of UV to minimise the risk of burning and maximise the tanning. As we know – no-one controls the sun! Tanning Tube lamp technology is subject to on-going research and development programmes to keep abreast of researched evidence on the effects of UV.
The main benefit of being tanned is seen as looking and feeling healthier. The main reason for using a Tanning Tube is for a pre-holiday tan. Whilst the sun protection factor from a Tanning Tube tan does not provide total protection, people having a base tan are less likely to over-expose themselves during the initial days of a holiday.
How The Skin Tans
Our natural skin colour is determined by skin pigment – melanin – and the presence and amount of melanin in an individual is determined by hereditary factors.
When our skin is exposed to UV, cells deep in our skin – called melanocytes – initiate a process where more melanin is produced. This subsequently 'browns' as it rises to the skin's surface producing a tan. UV also causes the outer layer of the skin to thicken. This is the body's way of building up protection to UV and to help avoid burning.
People will react differently to UV rays – darker skinned people produce more melanin. Very fair peoples skin contains very little melanin and, even when exposed to UV, they cannot form melanin, so they will not tan in sunlight or on a Tanning Tube.
If the natural tanning process is rushed, sunburn will result. Our skin has a natural repair mechanism but if this is triggered too frequently, it may become exhausted and result in permanent damage to the skin.
Melanoma
There is much misinformation in the public domain about an alleged link between Tanning Tube use and skin cancer, in particular melanoma.
The fact is that there is no causal link between the responsible use of Tanning Tubes and melanoma.
Studies have been conducted specifically to try and establish a causal link and they have been unable to do so. This includes a recent large case-control in the UK, conducted by Leeds Cancer Research UK Centre. The research concluded: "Therefore, we have not found any evidence of a relationship between Tanning Tube use and melanoma risk." The findings were published in the International Journal of Cancer.
At all times, whether in the sunshine or on a Tanning Tube, it is important to ensure that over-exposure or burning is avoided. It is over-exposure and burning that will increase a risk of skin cancer, not responsible UV exposure.
Always seek advice from a properly trained member of staff about the appropriate session times for your skin type and stage of tan, as well as ensuring you have none of the contra-indications that would prohibit you from tanning - either on a Tanning Tube or in the sun.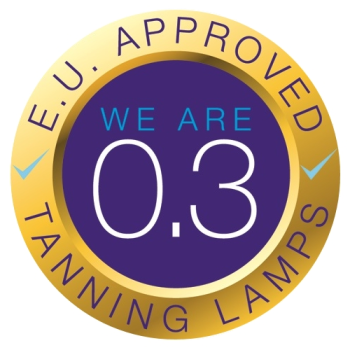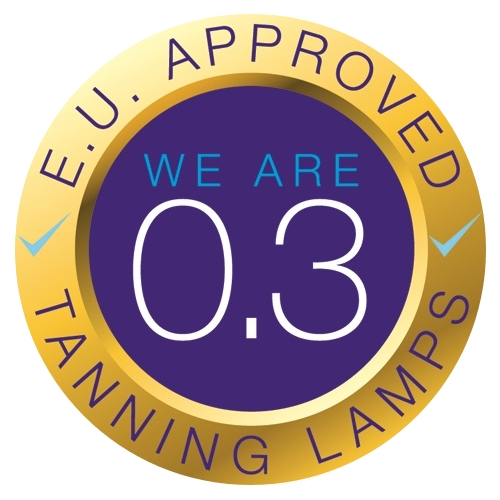 0.3 Tanning - The best way to tan?
There is a regulation governing the maximum UV output of Tanning Tubes. This is generally referred to as 0.3 and is approved by the EU and complies with all British and European consumer safety regulations.
A 0.3 tanning session delivers the same tanning effect as the mid-day Mediterranean summer sun but without the risk of burning.
0.3W/m2 is the amount of UV exposure that the EU's Scientific Committee on Consumer Products (SCCP) set as the limit for effective irradiance. This limit was then added to the European and British standards relevant for Tanning Tubes. A Tanning Tube with a UV output above this level is deemed as 'unsafe'.
Skin Type Analysis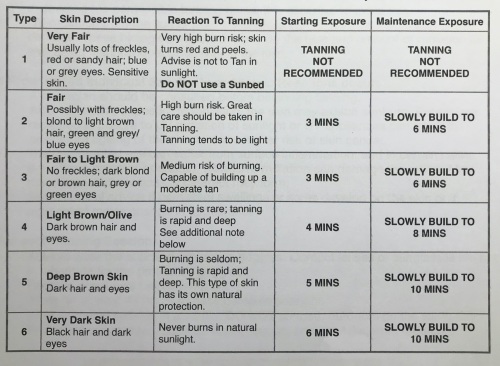 There are six basic categories of skin type. We will help you establish your Skin Typing.
It is estimated that one-third of our lifetime exposure to UV occurs in the first 18 years of life. The delicate skin of children needs to be protected, as the melanin-producing cells do not act efficiently enough to cope with over-exposure and there is evidence which suggests that over-exposure and sunburn pose the biggest risk to skin damage.
Preventing sunburn and over-exposure in childhood is seen as a major factor in preventing skin damage in later life. Studies have also shown that UV provides a source of Vitamin D, which is essential for maintaining a healthy skeleton. The answer is that children should receive a certain amount of exposure to UV for health reasons but must avoid over-exposure and sunburn. Our Skin Typing Guide below obviously involves some generalisation and should therefore only be used as a guide, not as medical advice. To use the guide, read all of the descriptions before deciding which one you think best describes your skin.

CONDITIONS OF USE
Strictly OVER 18's ONLY. You may be asked for prove of age.
Always

wear the supplied protective goggles. Contact lenses or sunglasses are not a substitute for the protective goggles!

You MUST fill in a Consultation & Skin Analysis Form.
DO NOT use the Tanning Tube if you have used or had any of the following in the last 6 Weeks: Chemical Peel, Laser Treatment, Photo Sensitivity, Sunburn, Microdermabrasion, SPMU/Microblading, Adapalene Hydroxyl Acid, Retin-A, Retinol/Vitamin A, Renova, Plasma or Fibroblast.
Remove ALL Make Up & Cosmetics. Remove Contact Lenses.

Exfoliate and do Hair Removal at least 48 hours before your Tanning Session.

If Pregnant, History of Skin Cancer - DO NOT USE.
General Usage:
If reddening of the skin (erythema) occurs hours after tanning, temporarily stop tanning. After a week the tanning can be resumed at the beginning of the tanning table.

If unexpected effects (such as itching) occur within 48 hours after the first tanning session, you should consult a physician before tanning again.

Once final tanning has been achieved, additional tanning is only possible by greatly exceeding the permissible tanning times. It is essential to avoid this.

UV-radiation from the sun or from UV-devices can cause irreversible skin or eye damage. These biological effects depend on the type and amount of radiation as well as on the individual sensitivity of the skin.
If Pronounced Individual Sensitivity or Allergic Reactions occur:
A physician should be consulted before beginning tanning.

After excessive exposure to radiation, the skin may exhibit sunburn. Excessively repeated exposure to UV radiation of sunlight or UV appliances can result in premature ageing of the skin and in a higher risk of skin cancer.

The unprotected eye can suffer from surface inflammation, and in certain cases, e.g. after a cataract operation, excessive radiation can damage the retina. After many repeated sessions, a cataract may form.

Seek medical advice if persistent swellings or sores develop on the skin or if pigmented moles change in appearance.
For each Tanning Session:
Allow for at least 48 hours to pass between sessions.

After a tanning session, DO NOT sunbath outdoors on the same day

Protect sensitive areas, such as scars, tattoos, and genitalia, from radiation.

Apply Sun Cream or Tan Accelerator and a good UV Lip Balm.

Decide what to wear, beware of more sensitive areas!
Frequently Asked Questionns
What is a Tanning Tube session?
A Tanning Tube session is the length of time it takes to reach an individual's MED (minimal erythemal dose). This is the point prior to over-exposure and burning, which must always be avoided. A session will therefore depend on the type of Tanning Tube being used, the skin type of the person using it and the development point of their tan. Never sunbathe outdoors on the same day you take a Tanning Tube session.
What you can expect from a 0.3 tanning session:
Your tan will be deeper and longer-lasting

The tanning process is kinder to your skin

The risk of over-exposure or burning is effectively eliminated
How Long are My Minutes Valid For?
Passes are valid for 1 Month from the date of purchase.
How Do I Get a Refund?
Refunds cannot be authorised. Refunds are only available for medical reasons upon receipt of a valid Medical certificate.
How Long Does It Take to Build Up a Tan?
Building a tan is dependent on skin type and the condition of the skin. Dry skin reflects light and as the cells shed more frequently, any tan developed does not last. Fair skin tans more quickly whereas medium and dark skin types are more resistant to the tanning process, requiring more sessions.
The time taken to build a tan varies dependant on many factors, but on average, a base tan can be developed between 3 and 5 sessions.
You are able to maximise your tanning potential by ensuring that the skin is fully exfoliated and thoroughly moisturised. We stock a wide range of UV lotions that encourage the tanning process as well as replace moisture lost during your session. Our tanning consultants are trained to help you find a lotion to suit your preferences and tanning requirements.
Are Tanning Tubes Good for Vitamin D?
Yes! There is a wealth of research citing responsible use of UV light as the best source of Vitamin D. All life on earth is in some way reliant on sunlight to thrive and humans are no different. Vitamin D is essential for development, maintenance and function of many systems in the human body as well as for the prevention of chronic illnesses and the promotion of health and well being.
Outdoor sunlight is in short supply in the northern hemisphere, we even joke about the lack of the British summertime! This in turn leads to an increased risk of Vitamin D deficiency. Using a responsible indoor tanning package is not only tailored to your skin type, it is an efficient use of time. A recent study stated that we would need to be in outdoor sunlight for 130 minutes in Autumn and Winter in order to produce this essential hormone!
Using a UV tanning bed regularly for a session length suited for your skin type is a great way to help promote and boost your Vitamin D levels.
Can UV Light Help My Skin Condition?
We advise that clients consult with their GP before undertaking any UV tanning package to treat a specific condition. Whereas UV light is believed to kill the bacteria associated with Acne, new developments in treatment of this skin condition and many others underlines the necessity to consult with a health professional.
However, UV tanning equipment is absolutely fantastic for the production of Vitamin D. Experts believe that having a vitamin D deficiency might limit the body's ability to keep skin healthy and as such, conditions such as Acne, Psoriasis and Eczema may be indirectly helped by ensuring that Vitamin D levels are maintained. Talk with your health professional about the different options you have available.
Can I Tan While I am Pregnant?
While there is no research to indicate UV light would have a negative effect on an unborn baby, our policy is to prohibit the use of UV tanning equipment.
We are always happy to place an active tanning package "on hold" for the duration of a pregnancy or transfer credit to a friend or family member. Packages are reactivated for the amount of time remaining on the package at the time of placing it "on hold".
How many minutes should I have?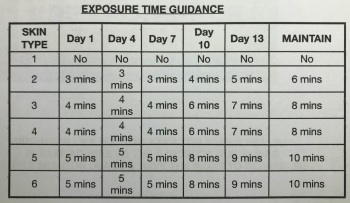 Session length is determined by skin type and tanning history. The first session with us is usually the minimum session length suitable for your skin type which in turn enables our trained Staff to help you design the tanning package to suit you.
How do I prepare my skin for UV tanning?
Dry skin reflects light and sheds more frequently. Any tan that develops is shallow and does not last. Moisturising is key to developing a deeper, darker tan. A week before your first session, thoroughly exfoliate and moisturise. Ensure that you moisturise after every bath or shower and use a UV specific lotion during your session.
How many times a week can I sensibly use a Tanning Tube?
People with skin type 1; children under 18 and people on certain medications that may cause photosensitivity; people with a history of skin cancer in their family should not use a Tanning Tube at all. Moderate tanning of 2-3 sessions a week is OK for everyone else but ensure you rest the skin for a minimum of 24 hours between each session and at least 48 hours for skin type 2.
The European Standard advises not to exceed 60 sessions per annum. If the natural tanning process is rushed, sunburn will result. Our skin has a natural repair mechanism but if this is triggered too frequently, it may become exhausted and result in permanent damage to the skin.
IMPORTANT: Always remember to build up the length of your tanning sessions slowly to avoid overexposure.
Why will some Tanning Tube salons let me use their Tanning Tubes for longer sessions?
This depends entirely upon the type of Tanning Tube being offered. The power and UV output can vary considerably from Tanning Tube to Tanning Tube. A professional Tanning Tube operator will advise on the correct session length, dependent upon Tanning Tube, skin type and stage of tan development.
Bear in mind that new lamps in the first 50 hours of use emit around 20% more 'UV output'. During this period you should reduce the tanning time by around 20% - We will advise when new tubes have been put in.
Is there a link between UV exposure and skin cancer?
There are two types of skin cancer – non-melanoma which can usually be easily treated. The second is malignant melanoma, which if not treated early enough can prove fatal.
Some evidence points to sunburn and over-exposure to UV being one of the possible risk factors in contracting skin cancer. It follows, therefore, that avoiding melanomas can be helped by controlling exposure to UV – particularly in children.
Malignant melanoma is found to be most prevalent on parts of the body not normally exposed to sunlight, suggesting that it is those areas that have to deal with intermittent, excessive doses of UV that are most vulnerable – or that UV over-exposure is not the only cause.
Controlled exposure to UV, either in sunlight or on a Tanning Tube, is important to avoid over-exposure and sunburn
What are the benefits of using a Tanning Tube?
Tanning Tubes offer a controlled way to tan and can provide appropriate levels of UV to ensure sufficient levels of Vitamin D are achieved and maintained (see section on Vitamin D for more on this subject).
Tanning in sunlight means the body can be subjected to different levels of UV rays, depending on the time of day, location in the world, month of the year and so on. With a Tanning Tube, a tanning programme can be developed to ensure skin type and the type of Tanning Tube being used, are taken into consideration to ensure that over exposure, including the possibility of burning, is avoided.
Do I have to wear Goggles while in the Tanning Tube?
YES, The consequences of overexposure to Eyes:
UVB – Overexposure can cause swelling of the eye, redness, irritation and a feeling as though a handful of sand has been thrown in their eyes.

UVA – Overexposure can cause problems with colour perception. Retinal burns caused by UVA overexposure can produce scarring in the rods and cones of the eye, which will reduce both visual acuity and sensitivity to colour.
Unprotected exposure of the eyes to UV radiation can also lead to cataracts that cannot be removed by surgery. Contact Lenses should NOT be worn while using the Tanning Tube - EYE GOGGLES MUST BE WORN AT ALL TIMES
Is it true there is no such thing as a safe tan?
No. Tanned skin protects against sunburn, thought to be the main cause of melanoma. If you avoid getting sunburned, the benefits of moderate sun exposure (see Vitamin D section) will far outweigh any risks.
Is unprotected sun exposure unhealthy?
Although precautions do need to be taken, regular, moderate amounts of unprotected UV exposure are absolutely necessary for good health. Independent scientific research has shown that whether you live in a sunny or not-so-sunny climate, but expose yourself to sun, then your subsequent increased production ofVitamin D will help lower the risk of a host of debilitating and fatal diseases including colon, breast, prostate and ovarian cancer, heart disease, high blood pressure, Type 1 diabetes, multiple sclerosis and depression. TOP TANNING TIP: Remember, smooth, healthy and well-moisturised skin absorbs UV light, whilst dry and wrinkled skin reflects UV light. A tanning lotion flattens out and hydrates your skin – meaning that a tanning session with professional lotion can be up to twice as effective as without. Always buy your tanning lotion in a tanning salon after seeking professional advice from the staff.
Are Tanning Tubes for tanning only?
If you don't have the opportunity to go out in the sun or prefer a more private and controlled environment, indoor tanning facilities represent a viable alternative to natural sunshine for stimulating your production of Vitamin D.
However, it is important to remember that the radiation that you are exposed to in an indoor tanning facility is the same as what you get from the sun. That means you need to take the same precautions that you would if you were in natural sunlight.
REMEMBER - WE WANT TO KEEP YOU SAFE & HEALTHY, PLEASE ADHERE TO THE EXPOSURE GUIDELINES., WE WILL MONITOR USAGE & HAVE THE RIGHT TO REFUSE USE.
DERMAPLANING
A client generally books a Dermaplaning Facial Treatment to have their skin cleansed professionally or if they are having issues with their skin. Dermaplaning is skin rejuvenation at its finest, this treatment is better known as a luxury shave and will remove all dead skin from the face, body and cleans the surface of the skin through exfoliation that tightens and firms the skin also will remove any unwanted light facial hair.
Superficial exfoliation facials remove skin through a portion of the epidermal layer. These are the "refreshing" forms of 'lunch time facials'. It is a method of exfoliation that consists of using a 10-gauge scalpel to gently scrape off the top layer of dulling dead skin cells in order to reveal a smoother, brighter complexion.
To cut it short and sweet it is a luxury facial shaving device that removes dead skin and is a painless procedure.
This is a great treatment if you are pregnant or nursing and want exfoliation without the risk of harsh chemicals absorbing into the blood stream and potentially harming your baby.
Dermaplaning is fantastic as a pre-treatment before offering such things as collagen induction therapy or forms of peels as this will exfoliate the skin and remove dead cells ready for that fresh layer to be treated.
The downtime is minimal, however your skin will be extremely sensitive, so a high sun factor is required for a minimum of 24 hours to reduce the risk of hyperpigmentation. This will remove a minimum of 21 days of dead skin so be sure to book your clients in monthly for this luxury facial treatment
Benefits of Treatment
Some of the key benefits of dermaplaning include:
Helps exfoliate skin with broken capillaries

Offers better results than traditional microdermabrasion

Little downtime

Skin is only slightly red and puffy after the treatment

Can temporarily remove fine, downy hair with ease

Performed just like shaving

Can be performed with other treatments such as chemical peel/microdermabrasion.
Who is Suitable
Clients who want Smoother skin, Better absorption of products, Removal of soft facial hair that traps dirt and oils.
Contra-indications - Prevent Treatment
Viruses such as colds, cold sores, warts

Bacterial infections such as impetigo, boils, conjunctivitis, sties

Fungal infections such as ringworm, blepharitis

Cystic/Live Acne

Undiagnosed Lumps or Swelling.

Botox (Wait for 2wks)

Recent SPMU (Wait 6wks)

Scar Tissue (Wait 6mths)

Recent Sunburn/Going on Sunny Holiday

Diabetes – may cause delayed healing – check with doctor

Cuts/Abrasions/Broken Skin/Bruises/Swelling

Sunburn
Contra-actions - Adapt Treatment Accordingly
The following conditions are Contra-actions that will not necessarily stop the treatment from taking place, but they may mean that the treatment is restricted or may have to be adapted:
Eczema/Dermatitis/Psoriasis

Acne Vulgaris/Rosacea

Skin Tag/Milia

Rosacea
THANK YOU FOR YOUR UNDERSTANDING AND COOPERATION