THE LEADERS IN SCIENTIFIC SKINCARE
A Derma-cosmeceutical brand that was developed in 1994 by leading skincare scientists aimed at the cosmetic surgery market for pre and postoperative application.
Since then, Nimue has evolved into a recognised professional skincare brand distributed globally, renowned for an expert understanding of the skin, innovative formulations, cutting edge technology and effective combination, concentration and strength of active ingredients.
Nimue's advanced and powerful formulations effectively treat the majority of skin concerns including: fine lines, wrinkles, sagging, pigmentation, uneven skin tone, dryness, oiliness, acne, rosacea and eczema.
Environmentally Damaged - Classified as skin with clinical signs of premature ageing or photo ageing or different skin types, conditions and photo-types.
Hyper-pigmented - Skin that presents an uneven skin colour influenced by internal and external factors.
Problematic - Classified as skin with oiliness, breakouts, enlarged pores and congestion.
Interactive - Suitable for skins that manifest temporary sensitisation due to ill health, medication and skin resurfacing procedures.
Nimue treats the cause, not only the symptom of a skin condition with four principles:
REJUVENATION - Active ingredients that accelerate or stimulate a physiological function and create structural improvement in the skin.
RESTORATION - Ingredients that restore the imbalance of a physiological function.
ANTI-OXIDATION - Ingredients that inhibit or neutralise the effect of free radicals.
SUN PROTECTION - Sunscreens and advanced ingredients that provide optimal protection against the damaging effects of UVA and UVB rays.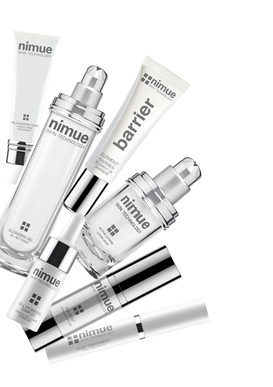 Nimue Express Enzyme Treatment - £35 (30 Mins)

This is an express skin treatment that includes full consultation a deep cleanse, enzyme treatment and soothing transdermal solution. It increases the energy of your skin and makes it feel invigorated and radiant. The treatment will finish with a customised prescription and treatment plan. Ideal for all skin classifications.

Nimue Deep Cleanse (Youth) Facial - £45 (45 Mins)

This deep cleansing treatment is designed to treat acne, oily and congested skin. It is also great for opening pores and removing black heads. It effectively purifies and clarifies helping to refine the skin texture. It helps with the absorption of excess oil and impurities and refines your skin's surface texture leaving you glowing. Ideal for all skin classifications.

INimue Theraputic Facial - £55 (75 Mins)

A customisable treatment that supports all skin conditions in particular, uneven skin tone, sun damage, oily and congested skin as well as sensitised skin conditions. This exfoliation, massage and masking treatment results in a revived, refreshed, smoother and softer skin. This is a specialised relaxing treatment ideal as a comforting monthly pamper and maintenance treatment. Includes a relaxing face, neck and shoulder massage. Ideal for all skin classifications.
Provides deeper product penetration
Removes soft facial hair that traps dirt and oils
Promotes smoother skin
Safe procedure for removing dead skin cells and "peach-fuzz"
Reduces the appearance of acne scars
Diminishes the look of fine lines
Works on all skin types
Instant results and no downtime
Just Add £15 to the price of your chosen Facial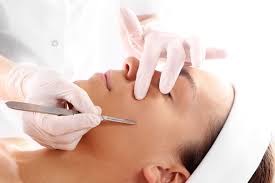 Waxing happens to be a very precise technique. When it comes to more detailed areas like the Eyebrows, Waxing allows for intricacy and precision meaning that the perfect shape is easily achievable. Waxing is also more effective than any other method, at removing dead skin cells and fine hairs from the brow area. This prevents any little bumps or ingrown hairs from popping up.
Lip or Brow Wax - £8
Lip & Brow Wax - £15
Lip, Chin & Brow Wax - £20