COMING SOON - NIMUE SKIN TECHNOLOGY
THE LEADERS IN SCIENTIFIC SKINCARE
A Derma-cosmeceutical brand that was developed in 1994 by leading skincare scientists aimed at the cosmetic surgery market for pre and postoperative application.
Since then, Nimue has evolved into a recognised professional skincare brand distributed globally, renowned for an expert understanding of the skin, innovative formulations, cutting edge technology and effective combination, concentration and strength of active ingredients.
Nimue's advanced and powerful formulations effectively treat the majority of skin concerns including: fine lines, wrinkles, sagging, pigmentation, uneven skin tone, dryness, oiliness, acne, rosacea and eczema.
Environmentally Damaged - Classified as skin with clinical signs of premature ageing or photo ageing or different skin types, conditions and photo-types.
Hyper-pigmented - Skin that presents an uneven skin colour influenced by internal and external factors.
Problematic - Classified as skin with oiliness, breakouts, enlarged pores and congestion.
Interactive - Suitable for skins that manifest temporary sensitisation due to ill health, medication and skin resurfacing procedures.
Nimue treats the cause and not only the symptom of a skin condition with four principles:
REJUVENATION - Active ingredients that accelerate or stimulate a physiological function and create structural improvement in the skin.
RESTORATION - Ingredients that restore the imbalance of a physiological function.
ANTI-OXIDATION - Ingredients that inhibit or neutralise the effect of free radicals.
SUN PROTECTION - Sunscreens and advanced ingredients that provide optimal protection against the damaging effects of UVA and UVB rays.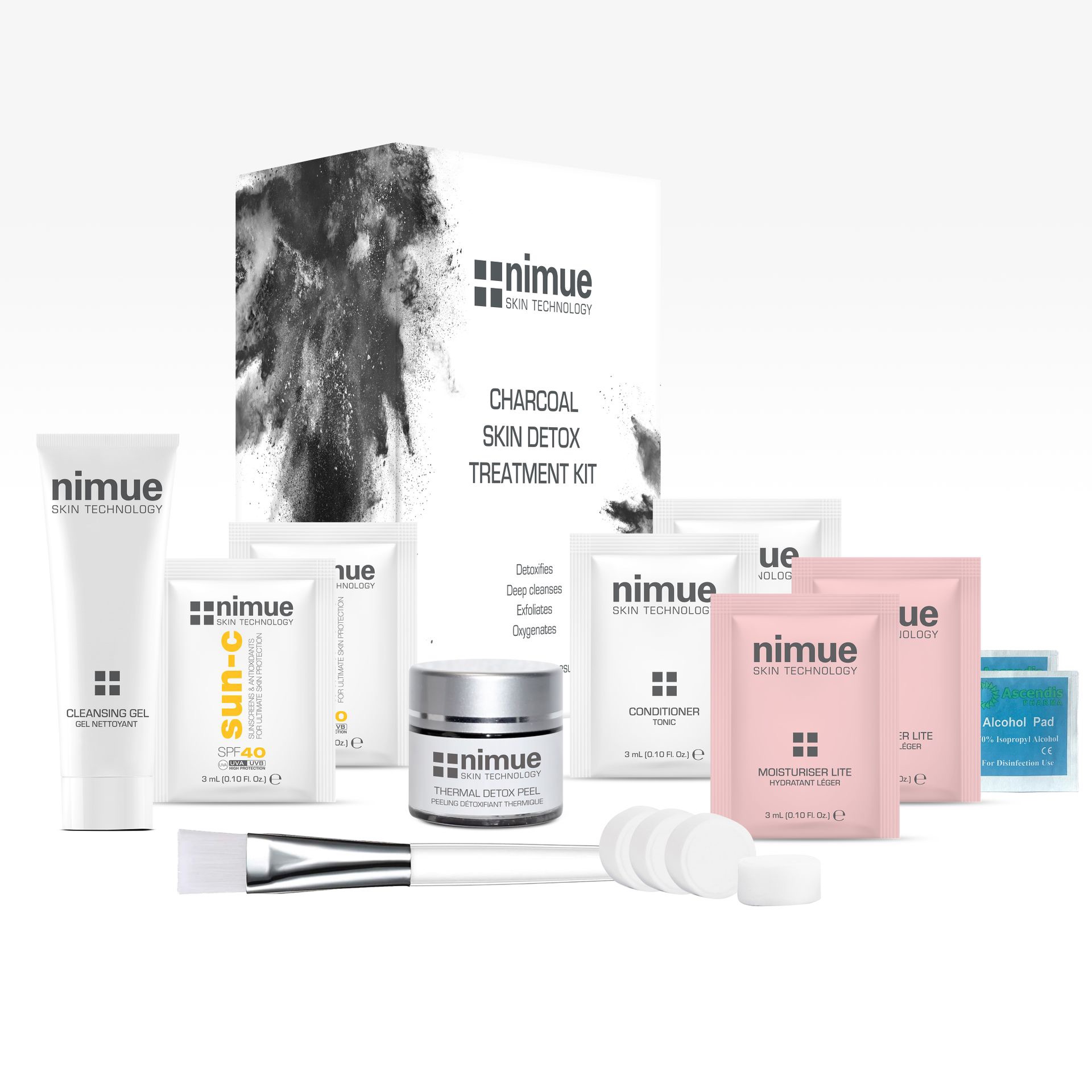 Benefits of a Facial?
Unfortunately, getting a facial is commonly seen as something you do only when you want to treat yourself. Our facials are competitively priced so they can become an affordable regular treat - Price range - £25 - £50
A staggering amount of pollution, dirt, grime, and dead skin accumulates on the face. We can do the best we can to keep the skin clean, but it is not always enough. Getting facials on a regular basis, even once a month will keep your skin glowing.
Makeup and Skincare Products: After receiving a facial, makeup goes on more smoothly and evenly. In terms of skincare products, a facial will help make sure you are getting your moneys worth. Your therapist deeply cleanses and exfoliates the face, allowing all your products to fully absorb and do their jobs properly.
Anti-aging Treatments: Facials are the best anti-aging treatment around. Treating yourself to a facial every so often will decrease your chances of having to dish out money for expensive procedures and injections. Facials improve the skins tone, texture, and elasticity by counteracting the damaging effects of air pollution and sun exposure.
Refreshed and Relaxed Skin: With each facial, a facial massage is also incorporated. The massage alone works wonders on tired, wrinkled skin. Your therapist is trained on how to appropriately massage the face. Believe or not, certain areas of the face need to be massaged in different ways. The massage also encourages lymphatic drainage as it flushes out toxins while promoting circulation.
Skin Cell Renewal: One of the most important steps of a facial is exfoliation. Exfoliation helps jump start cell turnover, encouraging the growth of new, healthy cells.
Noticeable and Instant Results: The best part about getting a facial is that the results are instant. Rarely do you come across a skin treatment or product that lives up to your high expectations. After just one facial, you will see an immediate improvement in the appearance of your skin.
Express Facial - £25 (45 Mins) Pre Cleanse (inc Make Up Removal), Cleanse, Exfoliate, Tone, Facial Massage, Moisturise.
Luxury Facial - £30 (60 Mins) Pre Cleanse (inc Make Up Removal), Cleanse, Exfoliate, Face Mask with Arm/Hand Massage, Tone, Facial Massage, Moisturise.
Indulgence Facial - £35 (75 Mins) Pre Cleanse (inc Make Up Removal), Cleanse, Exfoliate, Tone, Face Mask with Arm/Hand Massage, Aromatruth Specialist Blend Oil Massage, Eye & Face Serum, Moisturise.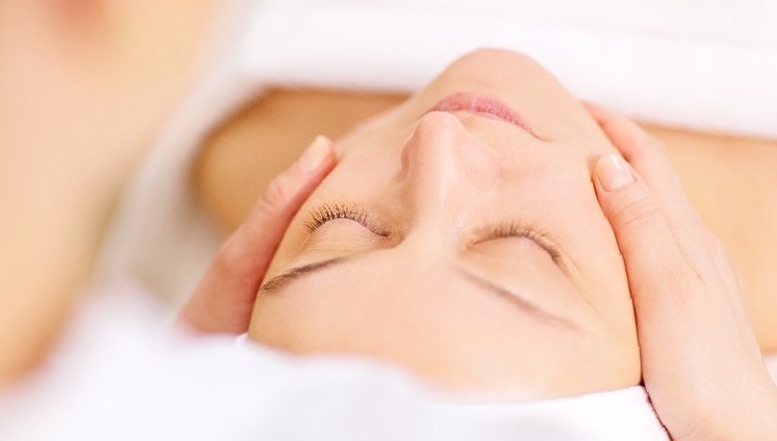 Provides deeper product penetration
Removes soft facial hair that traps dirt and oils
Promotes smoother skin
Safe procedure for removing dead skin cells and "peach-fuzz"
Reduces the appearance of acne scars
Diminishes the look of fine lines
Works on all skin types
Instant results and no downtime
Just Add £15 to the price of your chosen Facial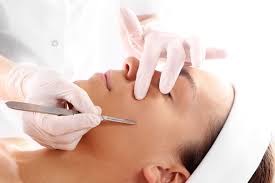 Waxing happens to be a very precise technique. When it comes to more detailed areas like the Eyebrows, Waxing allows for intricacy and precision meaning that the perfect shape is easily achievable. Waxing is also more effective than any other method, at removing dead skin cells and fine hairs from the brow area. This prevents any little bumps or ingrown hairs from popping up.
Brow Tidy - from £3
Brow Wax - £5
Lip or Brow Wax - £8
Lip & Brow Wax - £15
Lip, Chin & Brow Wax - £21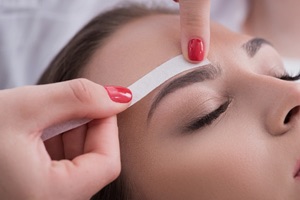 People will stare, make it worth their while.
Make Up Trial
Special Event Make Up
Day/Eve Make Up
Make Up Lesson
From £30
Add Party Lashes +20 Mins - +£18
Add Strip Lashes +5 Mins +£10
Brow Lamination is a Salon Treatment which involves restructuring and realigning Brow hairs to keep them in their desired shape. Brow Lamination will help give you a uniform, fuller Eyebrow shape. This is the ultimate solution for Eyebrows that do not have symmetry where the hairs follow a different pattern. Brow Lamination can be tailored to suit any brow preference. Brows can be worn brushed up or down depending on your style. This treatment is proving extremely popular thanks to their amazing results which last up to 8 weeks. Brow Lamination cane be done as a stand alone treatment or combined with a Tint, Wax & Trim. *PATCH TEST REQUIRED - No Appointment Needed
Brow Lamination - £38 (30-45mins)
Brow Lamination, Tint, Wax & Trim - £48 (45-60mins)