CARE! not just Colour
Posted on
CARE! not just Colour
Here at The Glamour Hut, we Care.
Our Mission is to care for your Nails and Skin whist performing ANY Nail Treatment. Whether it is a Basic Manicure or Pedicure or a Full Set of Acrylics.
We use Industry Leading Products, each renowned for their Service to the Industry and/or their Award Winning formulas.
Nail Prep is Key to ensuring whatever you choose to indulge in, it will last. Our Treatments are only as good as the health of your Natural Nails. So with that in mind, we want your nails to be in Tip Top condition. We can offer many additions to your Nail Service, So for Weak, Soft or Damaged Nails we recommend:
IBX Nail Repair & Strengthening Treatment is a Long Term Solution that can be added. This innovative two-part system offers revolutionary benefits:
IBX can be used on fingers & toes.
Can be used as a Natural Nail Growth or Repair Treatment or with your Gel Polish Manicure.
Creates a protective shield against de-hydration.
Reduces white spots that tend to occur with the use of some Gel Polish Clients.
IBX Repair is used to repair severe nail damage to set the stage for growth
IBX Strengthen toughens the upper layers of the nail plate allowing nail growth
With multiple treatments fills up deep grooves resulting in a smoother nail plate
Natural nail colour and appearance improved.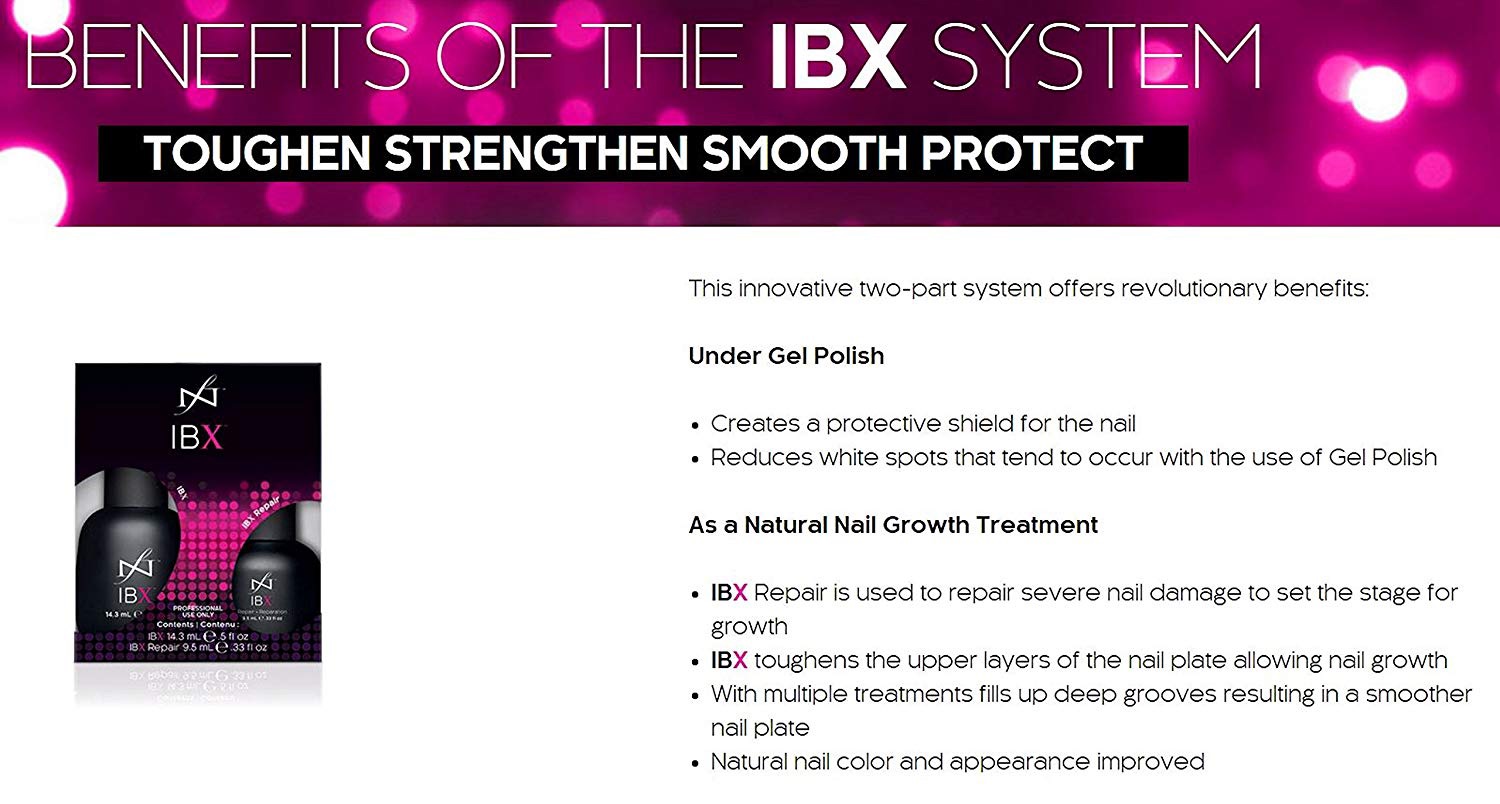 IBX Boost Perfection Over The Top
IBX BOOST is a FLEXIBLE and STRONG over the top universal nail coating that is the perfect compliment to the IBX System
IBX BOOST will smooth, strengthen, protect and act as a buffer layer under other services.
The IBX BOOST System can be used as:
A natural nail overlay for strength and protection
A protective coating under other services such as Gel Polish
Extends Gel Polish wear up to three weeks or more
Why IBX BOOST?
Dream Application

Self levelling

Requires no buffing on the natural nail prior to application

Cures in one minute LED or UV

Rebalances are easy, saving you time!

Use less product for superior end result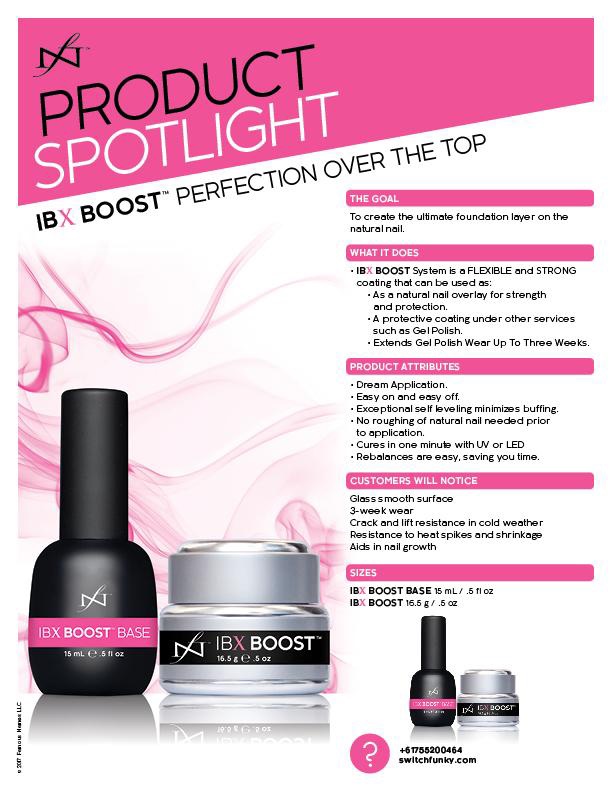 Gelish Structure Gel is an extra layer of strength that can be added. Available in Clear, Translucent Pink or Cover Pink it can be used alone or under your choose of Colour. It also soaks off when you come in to change colour so no need for Infills or Maintenance.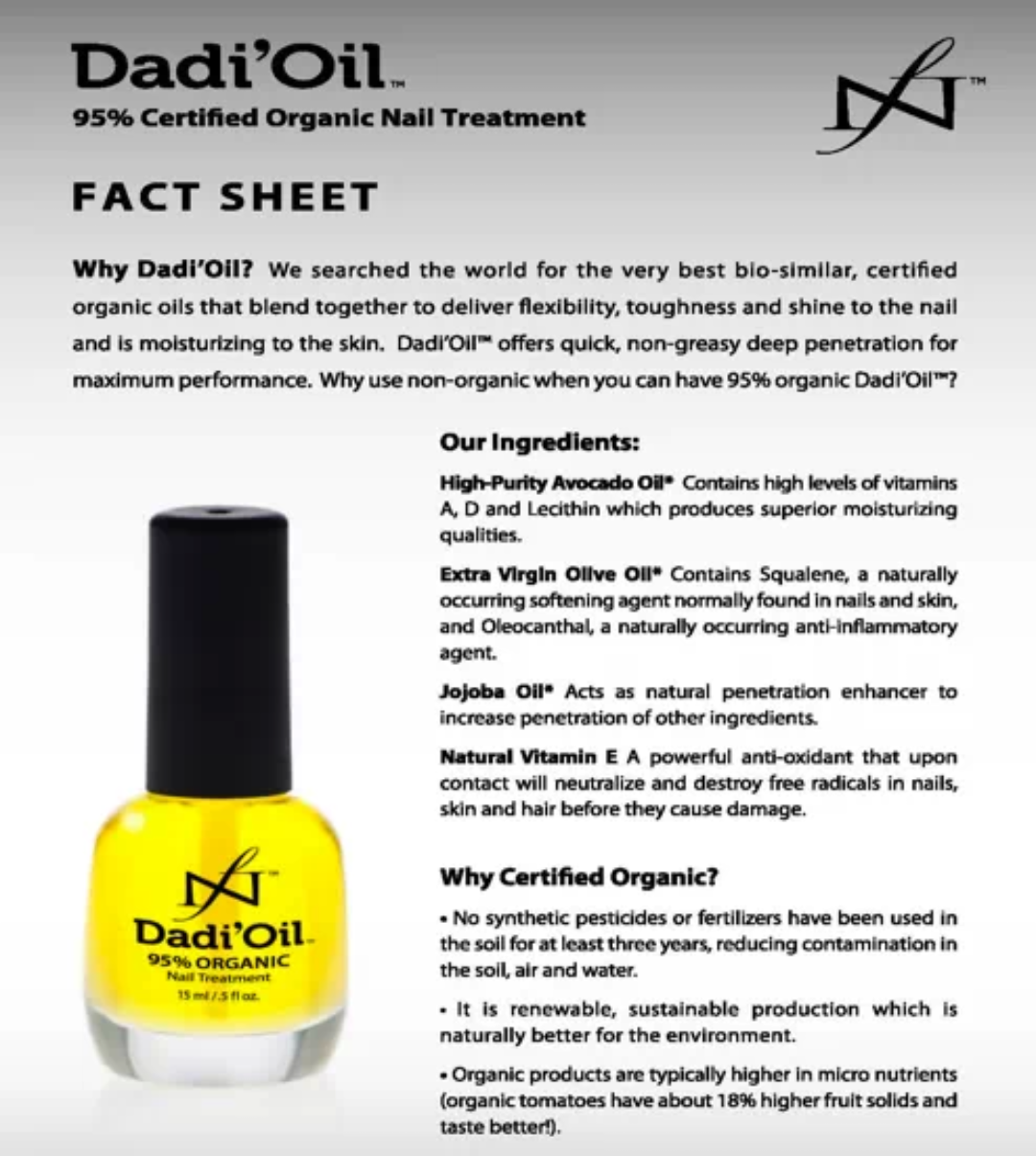 Aftercare is also very important to us by helping you get the most out of your Treatment. We want it to last. So we use Famous Names Dadi'Oil Cuticle Oil and Dadi Lotion. Also available to retail so you can continue caring for your nails at home.
Dadi'Oil is 95% Certified Organic. The four main ingredients are:
High-Purity Avocado Oil – contains high levels of Vitamins A and D which produce great moisturising qualities
Extra Virgin Olive Oil – two active ingredients here: first, Squalene, a natural softening agent; second, Oleocanthal, which has anti-inflammatory properties
Jojoba Oil – helps with the penetration
Natural Vitamin E – a powerful anti-oxidant
The aroma is made up of 21 essential oils, including Citrus, Vanilla, Lemon, Bergamot, Rosemary, Lemongrass and Lavender.